Country Key Sectors
Chemicals
Infrastructure
Security
Machinery
Education
Country Description
Guyana, a country on South America's North Atlantic coast, is defined by its dense rainforest. English-speaking, with strong traditions of cricket and calypso music, it's culturally connected to the Caribbean region. Its capital, Georgetown, is known for its British colonial architecture, including tall, painted-timber St George's Anglican Cathedral. A large clock marks the facade of Stabroek Market, a popular source of local goods.
Country Key Facts
Official Name: Guyana
Capital: Georgetown
Area: 799,613 (2013)
Continent: South America
Population: 377,374 (2013)
Languages: English
Currency: Guyanese dollar
Country News
Guyana MOU signed as part of European Commission investment programme
01 October 2004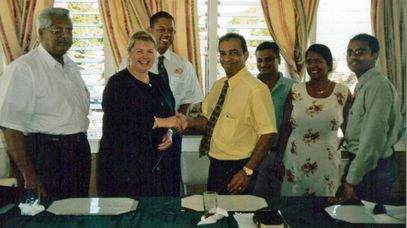 THE British Caribbean Chamber of Commerce's Deputy Chief Executive, Pauline Wade, signs a Memorandum of Understanding with Edward Boyers, the President of the Georgetown Chamber of Commerce, Guyana, as part of a European Commission-funded Pro Invest programme in October 2004.
Read more news