Angostura is latest BCCC patron
01 April 2013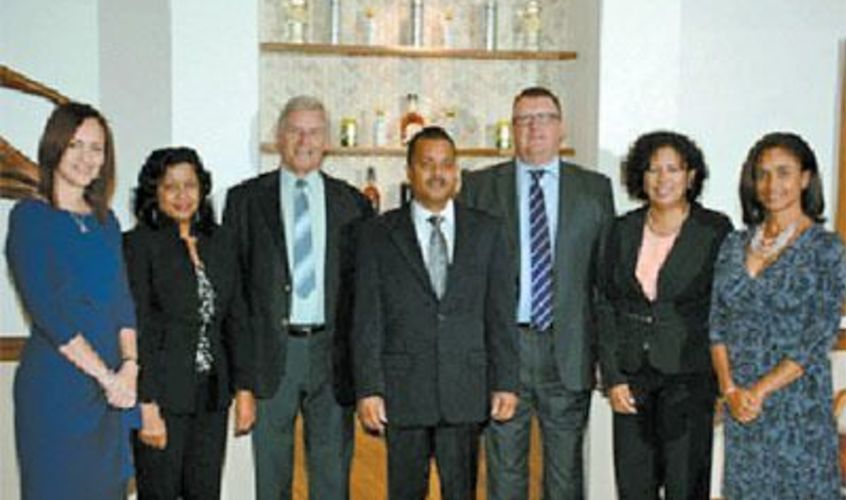 ANGOSTURA recently became the latest Patron of the British-Caribbean Chamber of Commerce (BCCC), marking the occasion with a luncheon ceremony at Angostura's Offices, Eastern Main Road, Port of Spain, Trinidad and Tobago.
The ceremony was attended by representatives of both organisations, including Robert Wong, CEO of Angostura and other executives of the company as well as members of BCCC's Trinidad Advisory Board—Honorary Chairman James Telfer, Geoff Patton and David Hodges, along with Tracey Hoford, executive administrator to the Chamber.
The relationship between Angostura and the BCCC has spanned several years and this latest development will pave the way for strengthening ties between the two organisations and enabling collaborative projects. Wong said he was "happy to see the two organisations come together once more and looked forward to a long, amiable relationship. "This partnership will allow for excellent networking opportunities for all members that can have a tremendous impact on future growth of the local brands," he said.
BCCC, a subsidiary of the Hull and Humber Chamber of Commerce in the UK, was launched in T&T in 2001 to promote bilateral trade between the UK and the Caribbean. The Chamber, whose member companies represent a broad cross section of business and industry caters directly to the needs of its members to advance their interest by developing networks with British links, through trade, culture and education.
Some of the key aspects of Chamber membership include seminars and networking sessions aimed at facilitating dialogue and knowledge sharing on issues of relevance to its members. Mr Telfer said he welcomed the opportunity to work more closely with a company such as Angostura.
View all