British-Caribbean Chamber and Dep British High Commissioner meet with Trinidad's President
23 January 2019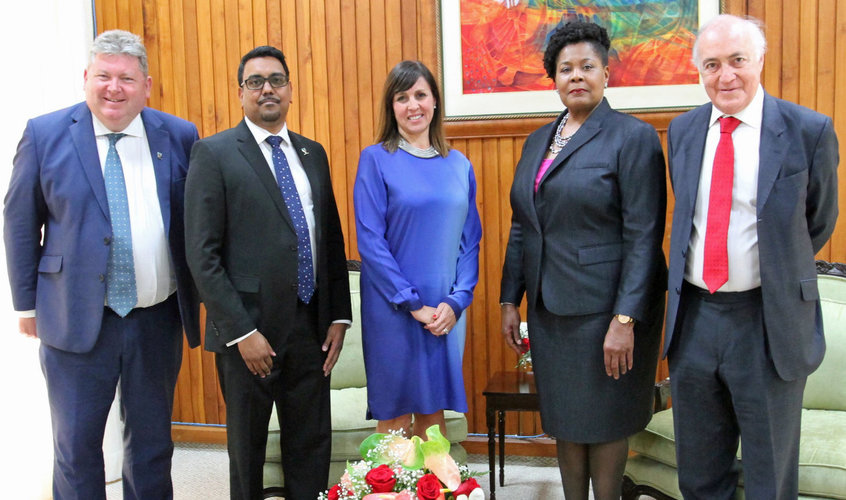 THE British-Caribbean Chamber of Commerce (BCCC) in Trinidad held a meeting this week with the President of Trinidad, Paula-Mae Weekes.
The BCCC delegation was led by its Honorary Patron, Lord Michael Howard of Lympne, a former British Home Secretary and included British Caribbean Chamber officers Dr Ian Kelly (Chief Executive) and Pauline Wade (Deputy Chief Executive) and the BCCC's new Chair Dr Ravi Rampersad who is a Senior Manager at Deloitte & Touche in Trinidad.
Lord Howard of Lympne met with the Trinidadian President to discuss Brexit, trade and the crime agenda which is of particular interest to both the President and Lord Howard.
The Chamber will also be exploring going forward with the President's office new opportunities to help the young people's agenda in Trinidad.
Lord Howard was accompanied by the BCCC's Chief Executive from the UK, Dr Ian Kelly and the Deputy British High Commissioner for Trinidad, Caroline Alcock.
Lord Howard QC who shares a legal background with President Weekes reflected on a shared passion for tackling crime in their respective countries.
During the visit to Trinidad Lord Howard also met with the Trinidad Advisory Board of the Chamber and members to discuss Britain's exit from the European Union (Brexit).
For further information please contact n.simon-thompson@britishcaribbean.com or visit the British-Caribbean's new website can be found at www.britishcaribbean.com
View all