British Caribbean Chamber bowled over by record-breaking second England v West Indies Test Match
01 August 2017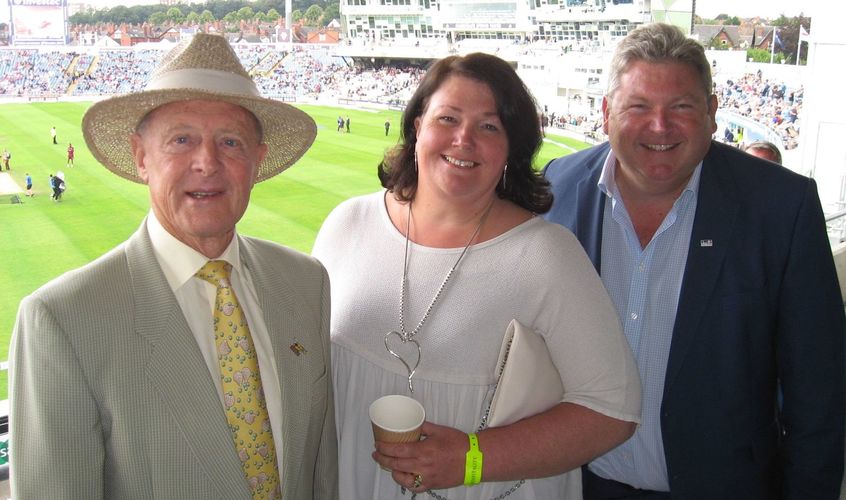 THE UK-headquartered British Caribbean Chamber of Commerce (BCCC) has been pushing the boundaries of international relations during the latest five-day test match between England and the West Indies at Headingley, in Leeds.
Specially invited Chamber guests were visited at the Test Match by England cricket legend Geoffrey Boycott OBE and his wife Rachael at a lunch hosted by Patron of the British Caribbean Chamber of Commerce, Lord Michael Howard of Lympne, the former Conservative Party Leader and Home Secretary.
Other business guests included representatives of ABP, P&O Ferries, the Johnson Group plc, Finance Yorkshire and Hull and Humber Chamber of Commerce.
As cricket aficionados will know, the classic, record-breaking match saw the West Indies go on to claim an historic win by five wickets, the first time they have beaten England in 17 years to level the current series, with the final test still to be played at Lords in September.
Guests enjoyed some early-morning celebrity spotting, as another cricketing legend, the former Captain of Yorkshire County Cricket Club and England fast-bowler Darren Gough plus fellow cricketer Richard Blake popped in for a chat, before being entertained with cricketing anecdotes by Geoffrey himself over lunch.
Chamber CEO Dr Ian Kelly said: "It was a highly enjoyable day, we had glorious sunshine for most of the day, the atmosphere, helped by the Caribbean steel band, was superb, and the crowd was full of fun and enthusiasm.
"It was also a useful opportunity for our business guests to meet informally and to use Headingley's excellent facilities to nurture international trade links between the British and Caribbean markets".
Pictured at Headingley are cricket legend Geoffrey Boycott (left) with Chamber Vice President Sally Booker and Ian Kelly.
View all