Howard's Way – to the Caribbean
01 January 2015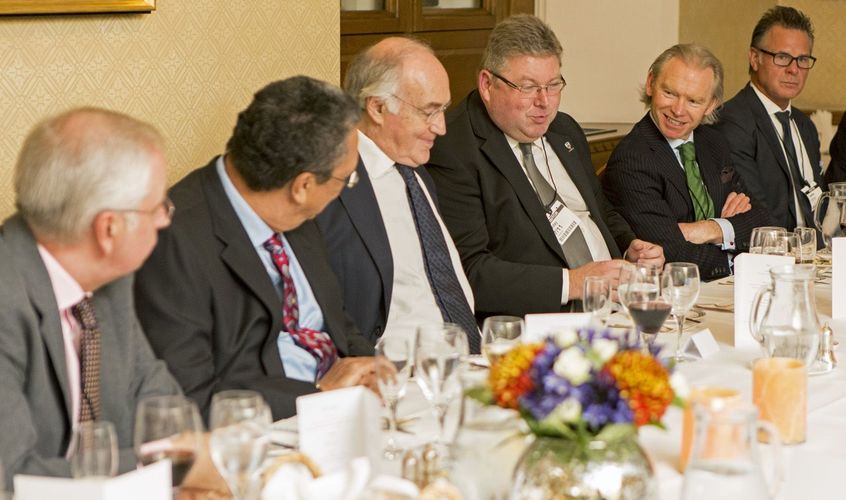 AT a recent House of Lords dinner, Lord Howard of Lympne and Patron of the British Caribbean Chamber of Commerce, which is based in Hull/Humber and linked to the Hull & Humber Chamber of Commerce, played host to the Prime Minister of St Lucia, Kenny Anthony.
The Dinner, arranged by the British Caribbean Chamber, set the agenda for a trade and investment visit to the Eastern Caribbean and Trinidad and Tobago in February aimed at exploring 'exclusive investment opportunities' in both Grenada and St Lucia, as well as more traditional 'trade links' into Trinidad and Tobago, where the two largest businesses on the island are British-based BP and BG, formerly British Gas.
Major UK investors in the Eastern Caribbean attended the Dinner, including Peter De Savary, famous for his role in the America's Cup but also a formal Ambassador to the island of Grenada. John Kennedy Chairman of the Boka Group and Angus Thirlwell, founder of Hotel Chocolat, both with major investments in St Lucia, also attended to highlight the market opportunities in both these two British Commonwealth Caribbean islands which are currently expanding rapidly through tourism, especially from the UK.
Dr Ian Kelly, group Chief Executive of the British Caribbean Chamber, said: "At the top end of the market, these two exclusive Caribbean islands offer excellent opportunities for both trade and investment which Prime Minister Kenny Anthony was kind enough to review for us on this special visit to explore opportunities for investment in particular. A gentle rivalry developed over the evening as our Patron Lord Howard (an official 'Friend of Grenada') and Peter De Savary teased other guests about the benefits of Grenada, whilst John Kennedy and Angus Thirlwell championed the delights of St Lucia".
Prime Minister Anthony highlighted his commitment to trade into the UK market by noting a Memorandum of Understanding between his St Lucia Trade and Export Promotion Agency (TEPA) and the British Caribbean Chamber, which included a Market Access Internship Programme where TEPA staff will be seconded into the BCCC office in Hull, UK from February 2016.
David Beasley, of Classlane Media, is one of a number of Yorkshire business leaders involved in the programme of activities involved in promoting trade. Other leading Yorkshire and Humber businesses who may be interested in the next trade visit to be lead by Lord Howard going to the Caribbean in February 2016, should contact Pauline Wade at the British Caribbean Chamber, on 01482 324976 or email pwade@britishcaribbean.com in early January 2016.
Businesses should note this is an exclusive private sector market visit which on this occasion does not include grants for smaller exporters.
PICTURE CAPTION: Guest of the British Caribbean Chamber (BCCC) House of Lords Dinner (from left to right) John Kennedy, Chairman Boka Group; Kenny Anthony, Prime Minister of St Lucia; Lord Howard of Lympne, BCCC Patron; Dr Ian Kelly, BCCC Group Chief Executive; Angus Thirlwell, Group Chief Executive of Hotel Chocolat and David Beasley, CEO of Classlane Media.
View all